My trip to Florence was short-lived but I still wanted to see some of the city's other famous landmarks and sample some delicious Tuscany wines. A friend recommended this winery tour that allowed me not just to taste different types from the region, but also to learn about their history in addition! When I arrived at Villa Costanza (A meeting point outside the center of Florence, but easily accessible and with all the necessary services, bar and bathroom) there were already many people waiting outside the guide welcomed us and explained some basic rules.
San Gimignano

i - Our first stop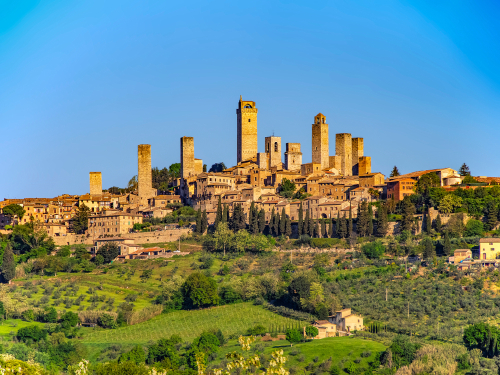 The first thing any traveler would notice upon arrival at this medieval Italian village called "San Gimignano" is certainly its imposing towers.
While sitting on a stone water well dating back to the Middle Ages, I enjoyed an amazing gelato snack in Piazza della Cisterna. Afterward, my feet were sore from walking around town so much but it was worth every minute of those uncomfortable shoes because there are no words that can describe how beautiful this place is!
I absolutely recommend going up to the top where you will find a balcony and near a tower where you can admire a magnificent panorama. If you have difficulty finding the place you can ask the guide, Enrica was very helpful with all the group.
Siena- Piazza del Campo

We arrived in Siena after a half-hour drive and were greeted by our guide Lavinia. She took us on an educational tour of this picturesque city that is famous for its UNESCO World Heritage Sites - including churches from different centuries mixed together! We visited one of the most beautiful squares in Tuscany, Piazza del Campo. It is precisely, in Piazza del Campo, that the famous Palio di Siena takes place, a race with horses that for the Senesi, the inhabitants of the city, is the most important event of the year. The Palio di Siena is held twice a year on July 2nd and August 16th
Piazza del Campo is lined with the once homes of noble families, and above it stands a tower that was once used as an important landmark in this medieval city. We left the piazza and walked a few minutes to see her favourite church--the Duomo. Enrica told me about how its construction was inspired by both Roman architectures as well Gothic designs, which is unique for northern Italy where this kind of fusion isn't typical at all!
The Cathedral of Siena is a must-see for any tourist. While its exterior may be enough, with its beautiful stained glass windows and impressive Romanesque design that make up most of the one side; those who go further will find themselves in awe at what seems like an endless number of decorations within this church - every inch decorated beautifully!
Monteriggioni
The fortress of Monteriggioni is a little town over an hour from Florence and was the last stop on our journey. My guide, Enrica told me about its history, it felt like there were two parts to this town - one side filled with tourists looking around in curiosity or posed against buildings as if they were taking photos; another where people lived their lives behind garlic-filled windows protected by thick walls that went right down into sturdy bases below ground level excepting only one small Romanesque church built centuries ago during Barberia's time (there's free access).
The San Gimignano, Siena and Chianti tour ended in the best way. The bus ride back into Florence went fast as always, thanks again, guys.
When we got back to Florence, my guide Enrica thanked us for participating in the tour. I told her that everything went smoothly and that the driver and guide always seemed attentive during our journey, and i really appreciate this! Of course, if you want something more than just visiting the places, the San Gimignano, Siena and Chianti tour will give you a lot of information on the history of Tuscany, you will see various cities in just one day. Who would I recommend the San Gimignano, Siena and Chianti tour to? To all those people who want to experience Tuscany with a local and make the most of their time, and who are looking for a cheap but quality tour.