You may have heard before that Montalcino is a perfect place for a vacation if you love flavurful red wines , but there is much more going on in Montalcino. History, plenty of beautiful streets to walk through and taking delightful drives in the hills offer a special feel of Tuscany if wine doesn't do much for you.
If you want to make the best out of your vacation, day trips to visit nearby areas like Siena and Florence are what we suggest! Below we will tell you what you shouldn't miss if you plan to visit Montalcino.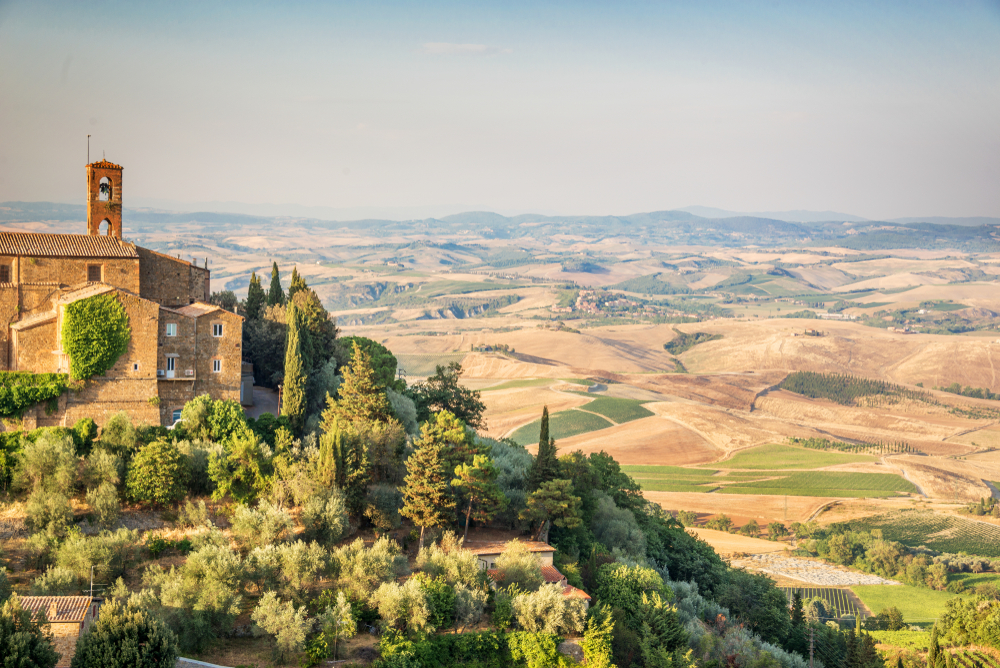 Wine tasting
Make sure to dedicate some time to enjoy the special medieval atmosphere of this magnificent Tuscan hilltop town.
You can wander through its narrow and characteristic alleys, take photos of you with the typical Tuscan background, and then sit peacefully while having a glass of red wine.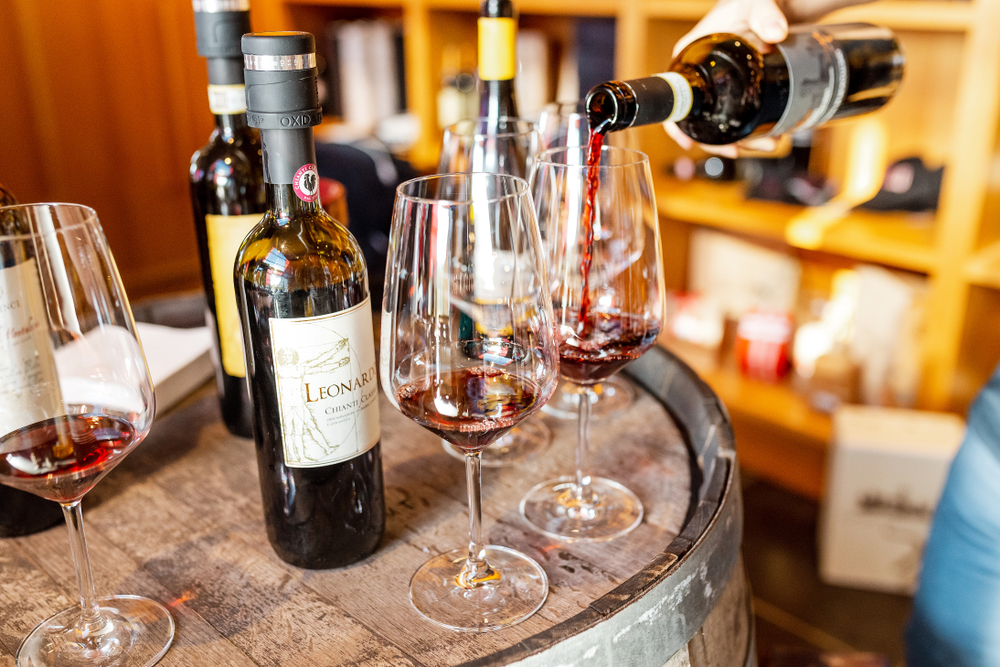 All about Montalcino wine
Wine enthusiasts will love Montalcino, if there is something you can find all over Montalcino, it is good wine! You can choose to visit one of the many vineyards in the region and taste the famous wines.
You can take a Brunello Wine Tasting Tour and visit the vineyard that grow the Brunello grape, and enjoy wine tasting. Before you finish your vacation, make sure to leave with a couple of bottles and enjoy it with your meals.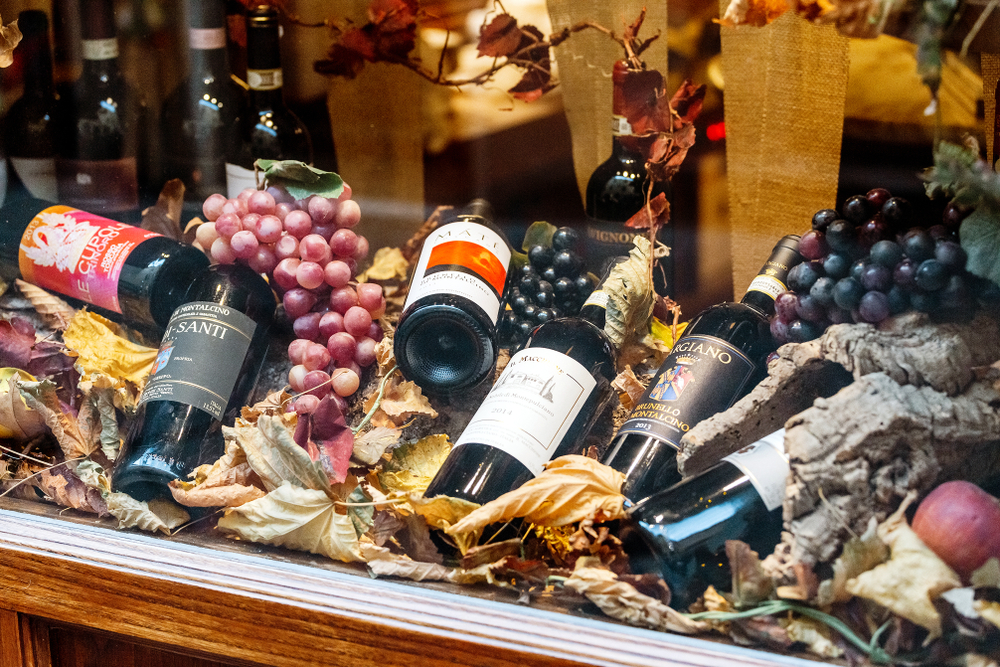 Montalcino local food
Montalcino cuisine is not different from other Tuscan areas. They make use of simple ingredients and manage to serve it with kindness and hospitality. This is the Montalcino local food you should taste before leaving:
Pici or pinci are hand made noodles with just flour and water in a round shape. Today, pici is considered one of Montalcino's classic dishes, but once they were a symbol of frugal cooking. Usually, locals will serve it with ragù or tossed in garlic.
Soups or soups in English. Tuscan soups tend to make use of stale bread. The most famous is ribollita, the twice-cooked soup made with kale and cannellini beans and pappa al pomodoro, meaning literally tomato mushroom, a soup of bread, leeks, basil, and summer tomatoes. These soups are served only in summer and always served at room temperatures, never hot.
Best attractions of the city
While being in Montalcino, make sure not to miss visiting the best attractions in the city. There are a lot of places to see and visit in Montalcino.
Whether you love cycling or hiking, Montalcino is a region where hidden gems are waiting to be explored. Take a look at the top places to visit and plan your next adventure today.
Abbey of Sant'Antimo
It is believed that it took its name after the saint Anthimus, this monument was built around the year 814. The exact year is not known, but historic documents show it was in existence then. From that point on, a town developed around the abbey.
Today, it is one of Italy's oldest working abbeys and sights well worth seeing. A short drive from Montalcino itself, the abbey plays the sounds of Gregorian chanting – remains from a previous visit by French monks, and visitors may also explore the church.
Montalcino Fortress – Rocca
The Fortress, along with Bibbiano Castle , is one of Montalcino's key relics from the centuries of war and holds so much of Italy's history. It's a huge, imposing building and where "contrades" take place. Contrades are contests between the four sections of Montalcino that happen twice a year.
A walk around the fortress is well worth the time and effort and if you haven't tried quite enough wine yet, there is a winery on-site, too.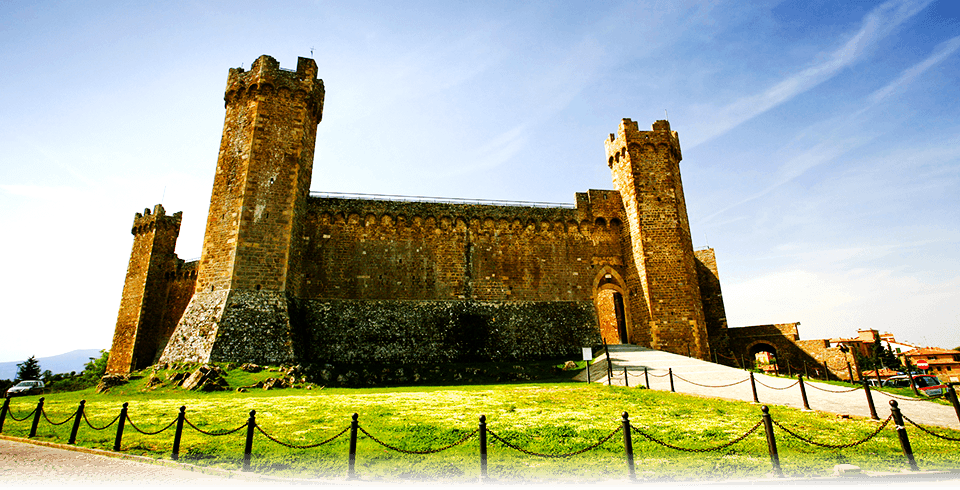 Civic Museum and Dioc esano di Arte Sacra
As with most ancient Italian cities, there is a strong relation between Montalcino and its religious history.
This is best seen at this diocesan museum, which features some very important pieces of artwork, including a triptych by Duccio. The museum is curated on the site of the former convent of the nearby Chiesa dei Sant'Agostino.
The streets of Montalcino
The streets of Montalcino and the village with its stone pavements, is a wonderful place to stroll around among the labyrinth of charming art and cafes, crafts shops, restaurants, and wine bars.
If you wish to take home a bottle of superb wine, this is the right place to pick one up!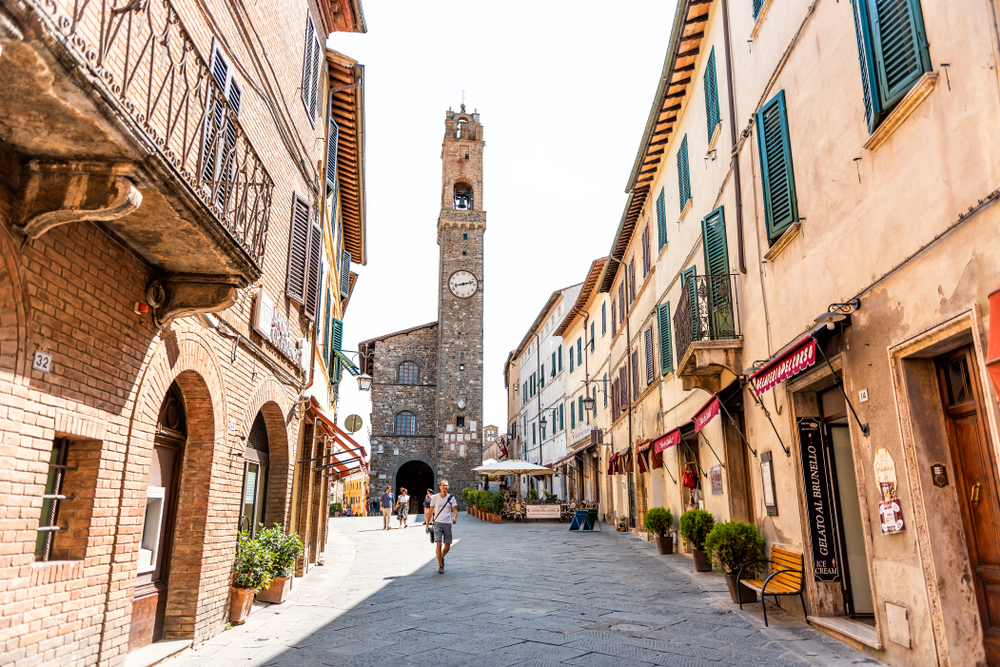 Palazzo Pieri
The Pieri Palace, a former royal lodging, has some non-monarchic history to its name, as well. During the Italian War, between 1555 and 1559, the French garrison stayed here, sent by the French emperor, Henry II.
Their job was to provide support to the forces native to the region against the forces of the Holy Roman Emperor, Charles V. Today, it's a popular tourist spot and a scene for a well-appreciated wine market.
Bibbiano Castle
When you visit a historic European town, you can generally expect to find at least one castle, and in Montalcino, the best example is Bibbiano Castle. Located close to Buonconvento, this fortification was built in the 9th century and still stands strong and impressive today.
It belonged to two of the most prestigious families of the Siena region, first the Guiglieschis and then the Cacciacontis, before being passed on to the then Cardinal Raffaello Petrucci. Since the year 850, it has undergone some renovations, but the bulk of the original castle remains.
Where to do the best photos in Montalcino for your memories and your social media
Montalcino is a great location for all photography enthusiasts or simply for all Tuscan landscape lovers. It fully represents the beautiful countryside of Tuscany and you can take amazing photos inside and around the city.
To finish the article, we are mentioning the top spots to visit so you can shoot photos worth posting on social media and make the place recognized.
Montalcino street
Chapel of the Madonna Di Vitaleta
Via Dell'Amore in Pienza
The Zigzagging Cypress lined roads
The Bagno Vignoni Square
The wood of Cypress trees