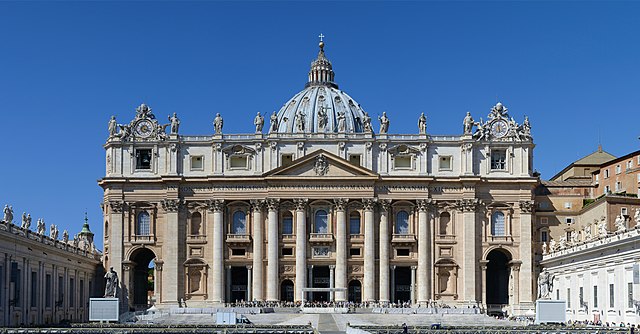 St. Peter's Basilica, A Monument for Artistic Geniuses
Nov 10, 2022
St. Peter's Basilica, Italy's largest Church, was designed by Bramante, Michelangelo, Carlo Maderno, Gian Lorenzo Bernini and many others. It also enshrines the grave of the "Prince of the Apostles" and three of the country's most celebrated masterpieces which are Michelangelo's Pietà, his breathtaking dome and Gian Lorenzo Bernini's huge baldachin. You will also find the Vatican Obelisk which is located to the east of the Basilica. But did you know that St. Peter's Basilica has gone through many changes? We'll start by going over when it was first built.
The Constantinian Basilica
The Old St. Peter's Basilica was commissioned by Emperor Constantine the Great after formally recognizing Christianity with the Edict of Milan. The church began construction in 324 AD and was built so that its apse was centered on St. Peter's tomb. The Constantinian Basilica was then consecrated in 329 AD and included many things like an exterior staircase that led to a four-sided portico called "Paradise." The walls of Old St. Peter's Basilica also witnessed many important historical events, such as many papal coronations and the crowning of Charlemagne by Pope Leo III on Christmas Day, 800 AD. However, the church would be demolished in 1505 due to it being in disrepair.
New St. Peter's Basilica
The construction of the New St. Peter's Basilica would begin in 1506 and would be completed in 1626 under the pontificate of Urban VIII. In Donato Bramante's original design, the New Basilica was to be erected in the form of a Greek cross. But after the architect's death in 1514, construction work came to an almost complete standstill as many architects, including Raphael, tried to change Bramante's plan until Michelangelo would take over construction and simplify Bramante's original design and drew up plans for what was to turn into his greatest architectural achievement: St. Peter's imposing dome. After Michelangelo's death the dome would be completed by Giacomo della Porta with Carlo Maderno adding the monumental facade in 1615 and Gian Lorenzo Bernini building the astonishing Piazza in 1667. St. Peter's Basilica has since become a monument to centuries of the artistic geniuses that helped build this church!