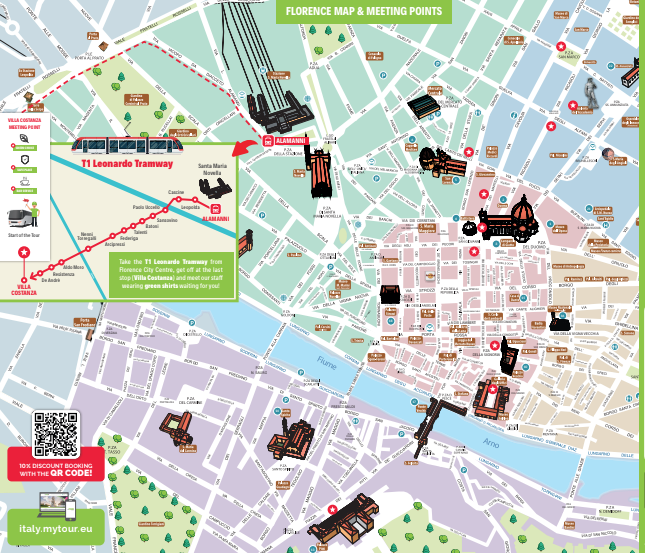 Map of Florence Italy: A Guide to Tours and Activities with MyTour in Italy
Oct 13, 2023
Discover Florence, a city overflowing with culture, history, and countless doors to an enchanting adventure. Let us introduce you to a realm of experiences that will sweep you off your feet. To truly savor your time in this breathtaking city, we've meticulously crafted a splendid array of tours and activities that will immerse you in its opulent heritage. These enchanting encounters act as magical passageways, revealing the concealed treasures of Florence. We're excited to unveil the captivating details of these extraordinary adventures.
But before we embark on this journey, imagine having all these incredible opportunities at your fingertips, neatly laid out on a map of Florence. Sounds enticing, right? Well, we've made it even easier for you. You can download our specially crafted Florence Map with just one click on the banner link or a quick scan of the QR code. It's your personal guide to navigating the city's most exquisite treasures, and it's ready whenever you are.
Now, let's dive into the array of Florence experiences that are waiting for you:
Close your eyes and let the magic of Piazza del Campo surround you. This tour offers the chance to breathe in the beauty of Siena, San Gimignano, and Pisa while savoring a delicious lunch.
Enjoy an afternoon visit to Florence and uncover its mysteries, secrets, and legends of the past that give this city its unique and special flavor.
Relish a guided tour of the most significant buildings in the heart of Florence's historic center: the Duomo (Cathedral), the Baptistery, and the Opera del Duomo Museum.
These experiences are your ticket to the heart and soul of Florence. So, what are you waiting for? Book any of these remarkable tours and activities to make your Florence adventure truly unforgettable. And don't forget to download your Florence Map for a seamless exploration of this enchanting city. Florence is ready to be explored, and the map is your guide to this treasure trove of history, art, and culture. Enjoy your journey!