Cinque Terre is a must-see if you're visiting Florence and the Cinque Terre region has been on your wish list since before longboarding was invented. There are only 170 km between Florence and where these five villages lie, this scenic coastline will be ready for viewing in no time at all! The towns of Cinque Terre are so beautiful that it's easy to understand why they have been popularized as a filming location for movies, TV shows and cartoons. What if I told you Shut up, Bruno! How to forget about Luca the famous Pixar cartoon released in 2021 and set right here in the 5 Terre.
The narrow roads make excellent driving conditions difficult, but if you manage to get your car up there then be prepared for limited parking space availability!
The 5 Terre Express train is a must-have for any visitor to Cinque Terre. The journey will take you through tunnels and along the cliffs, with stops at each of these villages that are connected by this incredible transportation system! You can buy your ticket in La Spezia or on board - but either way it's an experience like no other as Italy unfolds before your eyes throughout this magical afternoon trip (or evening).
The ferry boat is an excellent alternative to the train, with small vessels that can hold up 400 passengers. These boats depart regularly from La Spezia and make stops at all five Cinque Terre villages!
Going from Florence to La Spezia
By Train:
The journey from Florence Santa Maria Novella station to La Spezia by train lasts about 2 hours and a half. From La Spezia, take the 5 Terre Express
By Car:
If you're traveling by car, without traffic delays the ride should take about one and half hours. You'll need to park your vehicle before catching any trains or boats as there is no free parking at these places on weekends unless otherwise specified in blue signs that say "Parking Free."
Organized Tours:
If you do not want to take the train or the car you can opt for an organized tour, our 5 Terre Tour leaves at 07:45 and will take you to discover these fantastic areas together with an expert escort.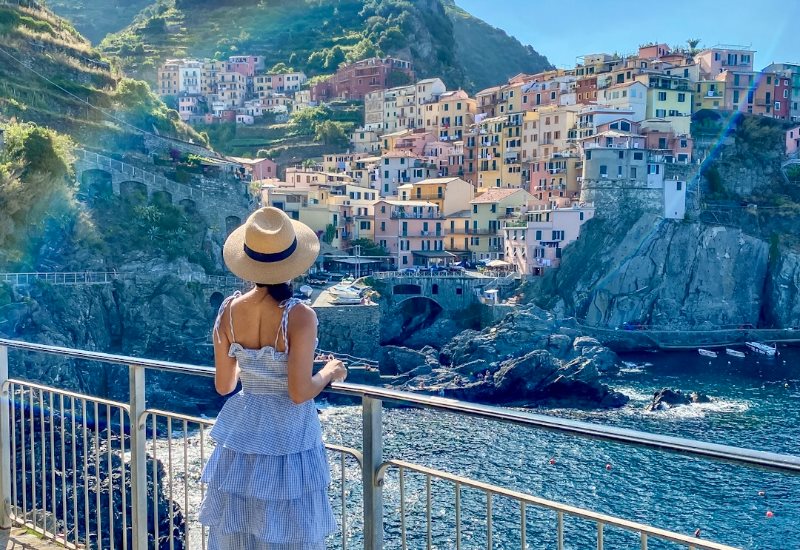 Best time to visit Cinque Terre
The landscape changes with the seasons but this place is extraordinary all year round! Spring and Fall are definitely when you should go for a drive along Highway 1. In June, July and August there's not as much HOT sunny weather so it can be too hot to enjoy driving around in your car (although if we get some rain or snow then everything turns into a slippery ice rink!). December through February? That's just about perfect – chilly outside yet still warm inside and the golden hour before night falls is breathtaking!